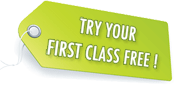 Power (also known as Vinyasa) is a dynamic, energizing and challenging class. By moving through creative and physically demanding sequences, you will work towards to peak poses such as headstand, handstand, and other advanced balancing postures.
Develop core strength and stamina, improve balance and inner stillness, create lean, strong muscles and improve flexibility in joints and connective tissues. Focus your awareness on harmonious body alignment, integrity of postures, and deepen into poses with the guidance of your breath.
Previous yoga experience is highly recommended.
Power Class Schedule
Tuesday May 21st, 2013