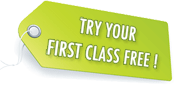 Originating over 5000 years ago, Yoga is the ancient practice of uniting the body with the mind and soul. Through a series of breathing techniques, stretching and strengthening postures, and meditation, you will learn to create balance in your life by improving your physical fitness, calming your nervous system, and increasing your clarity of mind.
We have over 65 weekly yoga classes on our schedule. Whether you're seeking to build calm and self-awareness, strengthen your body, or develop your flexibility and mobility, there is a class to suit everyone's needs and schedule.
Read our FAQs for more information on your frequently asked questions.